A Partial Compilation of Installation Photos and Exhibition Materials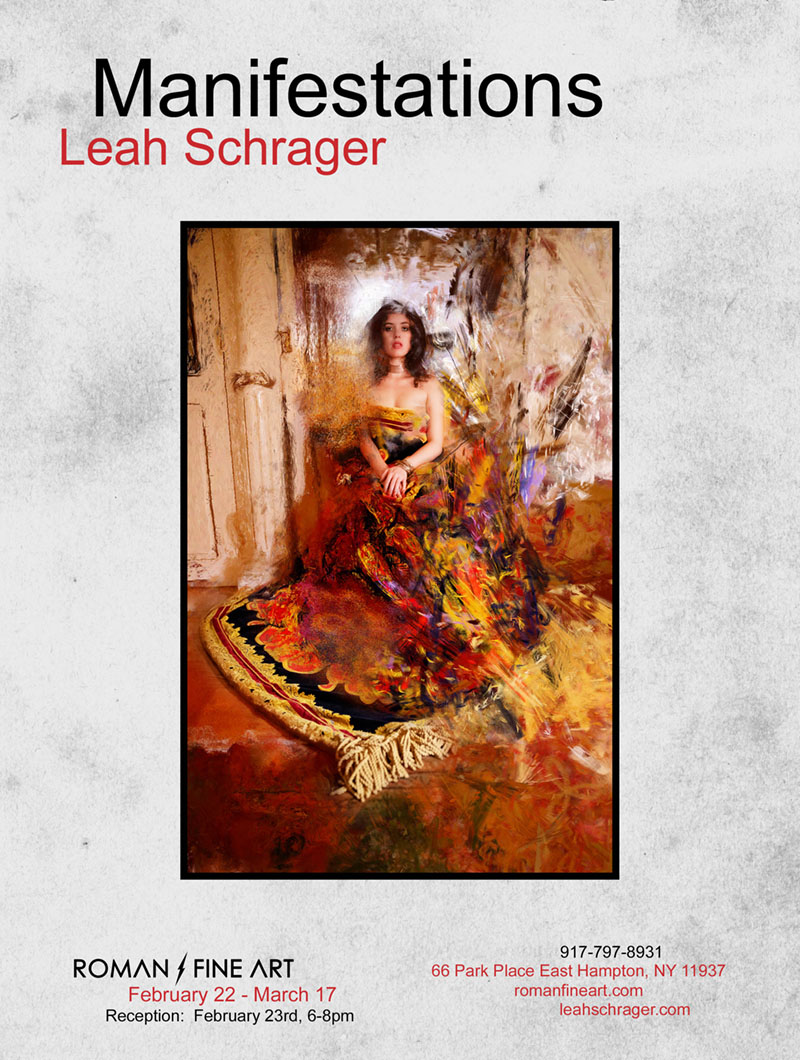 Scope Miami 2018

Museum of Visual Art in Leipzig, Virtual Normality – Net Artists 2.0

Aqua Art Fair during Art Basel Miami Beach, works on aluminum, The Goldfinger Suite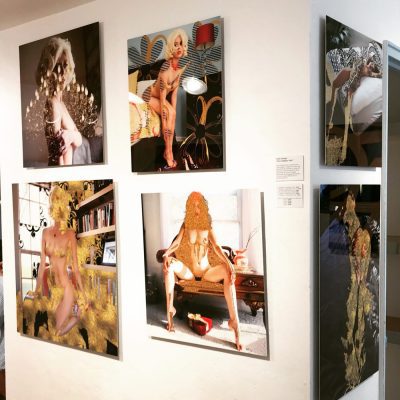 Works (dye sublimation on aluminum) at a collector's home:

2017 Screen Present Tense, HDLU, Meštrović Pavilion, Croatia, c. Sandra Sterle & Klaudio Štefančić
2017 Bad Sex Bad Sex, Novella Gallery, NYC, c. Monika Rostvold
SPRING/BREAK Art Show 2017. During Armory Week NYC.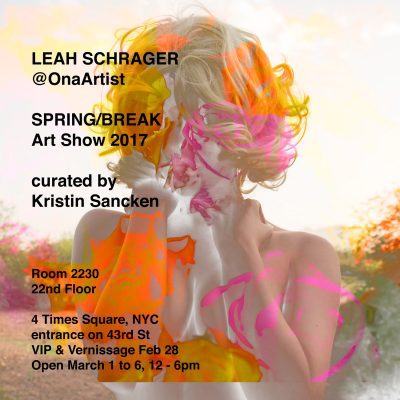 New York, NY (February 28, 2017)— Curator Kristin Sancken will be presenting @OnaArtist, a solo show of new works by artist Leah Schrager, as part of the 2017 SPRING/BREAK Art Show in New York City. The exhibition marks the artist's first year participating in the curator-driven art fair and will be on view in room 2230 at 4 Times Square from March 1-5, 2017.
@OnaArtist is continuation of Schrager's ongoing celebrity-as-art project in which she appropriates her own image into a hypersexual "Insta-famous" alter ego, named ONA, through which she explores intersectional feminism by documenting her rise as a self-made, micro-celebrity on social media. Making ONA a real world celebrity has so far included the creation and growth of her Instagram account, which has over 450K real followers, the release of her EP "Sex Rock," and the publication of "Self-Made Supermodels" in Rhizome.
Inspired by the rise of office decor on social media, this site-specific installation is an extension of the millennial idea that practical objects can fulfill a brand-led purpose. By using passe "of the moment" design objects, the mirrors how in the digital age, everyone is conducting their own "celebrity project."
Although the free or public version of her works contain no nudity and follow social networking rules (are SFSM, or "safe for social media"), she has been kicked off numerous social media and institutional platforms. Each of the highlighted works in this exhibition are part of Schrager's exploration into the conflation or confusion between what is considered porn and what is considered art when it comes to the online censorship of provocative female bodies.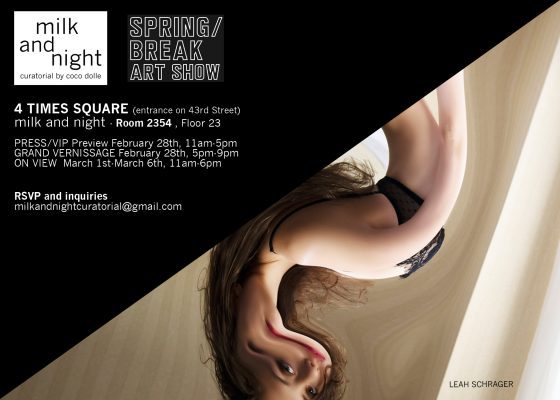 Curator Coco Dolle presents milk and night at SPRING/BREAK Art Show 2017, a curatorial project engaging 13 artists (12 females artists, 1 male artist) who explore the counter-narratives of the subject/creator relationship, while revisiting the anxieties, distortions and reflections of our own psyche. As the theme for this SPRING/BREAK Art Show 2017 is BLACK MIRROR, milk and night curatorial seeks to engage works that implicate our shadow-selves. Coco Dolle's curation here explores an aesthetic of darkness with elements of humor, derision, self-deprecation, restraints, outrage, shock and beauty.
2017, "Last Night" Castor Gallery, NYC
an exhibition of new works by Parker Day, Julia Fox, & Leah Schrager
2016, Glitter Peach, Miami Beach Cinema Gallery's Art Basel Exhibition
ART BASEL EXHIBITION. Fourth Wave Feminist: The photographic works of Leah Schrager
WED NOV 30-SUN DEC 04 2016:
Curated by Robert Adanto
From the Miami New Times:
Miami Beach Cinematheque will open its Art Basel exhibition featuring New York-based multidisciplinary artist Leah Schrager on Wednesday, November 30 at 5:30pm, on view until December 4th. Fourth Wave Feminist: The Photographic Works of Leah Schrager will feature self-portraits from Schrager's new series, Glitter Peach, which she shot in various locations including Miami Beach. In addition to the exhibition, The F Word, a documentary featuring Schrager and other Brooklyn-based feminist artists, will also screen November 30th. The film's director Robert Adanto, who curated the exhibition, will be joined by Schrager during a post-screening Q&A. The reception begins at 5:30pm, with the screening at 6:30pm. Glitter Peach is Leah Schrager's recent body of work made in late 2016, as part of her celebrity project, ONA. Through ONA, she explores the glamor, play, tragedy, virality, and aesthetics of a self-made internet celebrity. The base of each work is a self-portrait shot in locations around America – desert mountaintops of Utah, cabins in Woodstock, condos in Miami, hotels in NYC, and more. She uses Photoshop to digitally paint/manipulate the images. The final works are printed on glossy aluminum and are displayed with black censor bars that may be removed by the collector.
2016 Summer Fling, Johannes Vogt Gallery, East Hamptons, NY
2016 Self Reflection, Untitled Space, NYC, curated by Coco Dolle and Indira Cesarine
2016 Ex Nihilo, Nihil Fit / Out of Nothing, Nothing Comes, White Circle Gallery, Brussels
April 15 – 24, 2016, Group show with Frederik De Wilde, Julian Oliver, Félix Luque, Pinar Yoldas, Jerry Galle, Ryoichi Kurokawa, Patrick Tresset, Frederic Fourdinier, Michel Paysant, Leah Schrager, Robert Zhao Renhui, Sébastien Lacomblez, Rachel Rossin, Kris Verdonck, Harm van den Dorpel, Olga Mikh Fedorova, Dries Depoorter. Atelier Coppens Nieuwe Graanmarkt 23 Nouveau Marché au Grains 1000 Brussels (City Centre) Curated by White Circle
2016 Persona, Process Portraiture, UT Gallery, Knoxville, TN
2016 In The Raw: The Female Gaze on the Nude, Untitled Space, NYC, curated by Coco Dolle and Indira Cesarine
2016 Beaver, Center For Performance Research, Brooklyn, NYC, curated by Naomi Elena Ramirez and Kristen Korvette
2016 Profit Positive Pu$$y, Superchief Gallery, NYC, a two person exhibition with Lindsay Jones
Profit-Positive Pu$$y features work from Lindsay Jones and Leah Schrager, two artists who come from a history of modeling in which they were the commercial object for other artists. Searching for agency and power has led both independently to an obsession with objectifying themselves through art forms that at times embrace commercialism. Schrager's video and painting presentation, entitled "The Celebrity Project, Year 1: Sex Rock," documents and presents art from the first year of her on-going celebrity-as-art-practice project in which she strives to make ONA a real world celebrity so she can (among other goals) successfully appropriate her own image into her art while also investigating how, in the digital age, everyone is conducting their own "celebrity project."… The themes, materials, and concepts inherent in both their works are not only specific to being female in America in the 21st century, but also round-a-bout at the broader crossroads of sexuality and equality, monetization and liberation, representation and authenticity, muse and creator, fame and labor, and appropriation and self-obsession.
2015 The Male Gayze, Stream Gallery, curated by Monica Mirabelle, NYC
2012 Am I not Art/Ist, Hotel Americano, NYC
2010 Pretty | Whatever, The Center on Contemporary Art, curated by Joseph Roberts, Seattle, WA
2015 "Life Glitch" online, curated by Lindsay Howard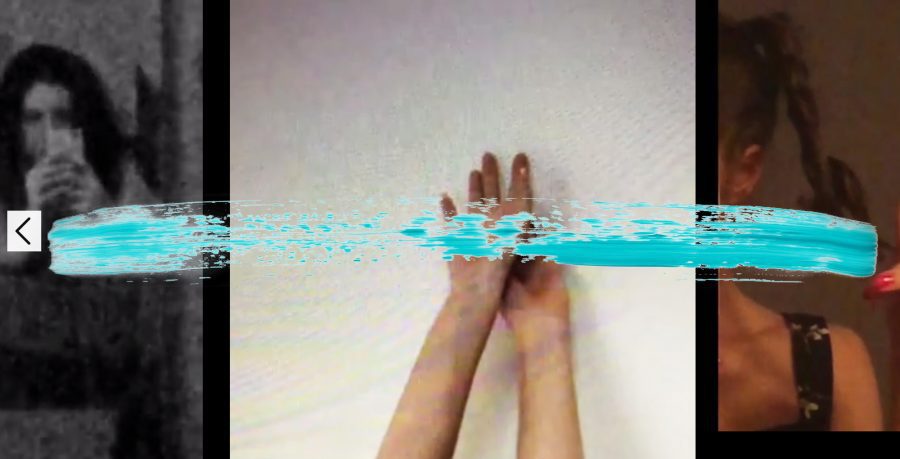 NEWHIVE ANNOUNCES Life Glitch, A NEW ONLINE COMMISSION Launching March 26, 2015
LINK: http://newhive.com/leahschrager/lifeglitch1?q=%40leahschrager%20%23lifeglitch&e=I9SHJ2
New York, NY – NewHive is pleased to announce Life Glitch, a new online commission by Leah Schrager. Life Glitch explores the anxiety around digital documentation of physical experiences.
Why would a person videotape her computer screen? For artist Leah Schrager, it was a reaction to feeling like she had barely captured a prior experience that she had already recorded. Schrager was vacationing on the shores of Long Island, on a day which ended up being the coldest recorded in history. She documented her vacation as one does with photos, videos and an occasional selfie, only to come home and feel like she hadn't fully encapsulated the whole experience.
Schrager then held the video camera of her iPhone up to the computer screen, where these various photos, videos and selfies now lived. What was captured became this collection: the glitches of a computer's overused memory, as well as ambient sounds of spending time online: fingernails tapping on keys, sips of water, and deep sighs.
Life Glitch is a translation of the artist looking at herself, while looking at the viewer. It serves as a reflection on memory, as well as our immersion in experiences and the ways that media disrupts them, preserves them or both.
This commission is curated by Lindsay Howard.
The F Word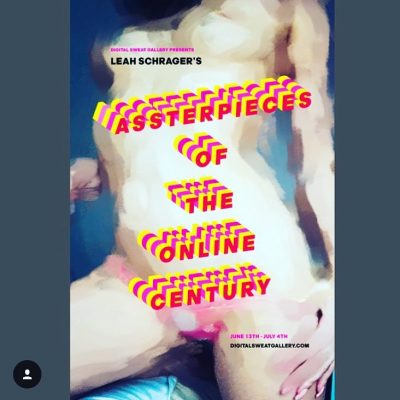 2016 Body Anxiety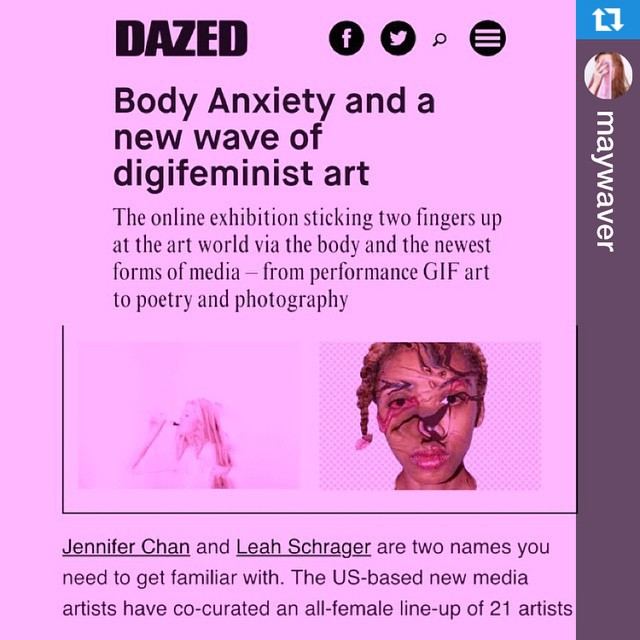 2015 Off Pink, MFA Thesis Show, The Kitchen, NYC, curated by Tina Kukielski
2015 Absent Shape, The Chimney, Brooklyn, NYC, curated by Adriana Pauly
Select Art Fair
2015 Second Selves, Distillery Gallery, Boston, curated by Alexis Avedisian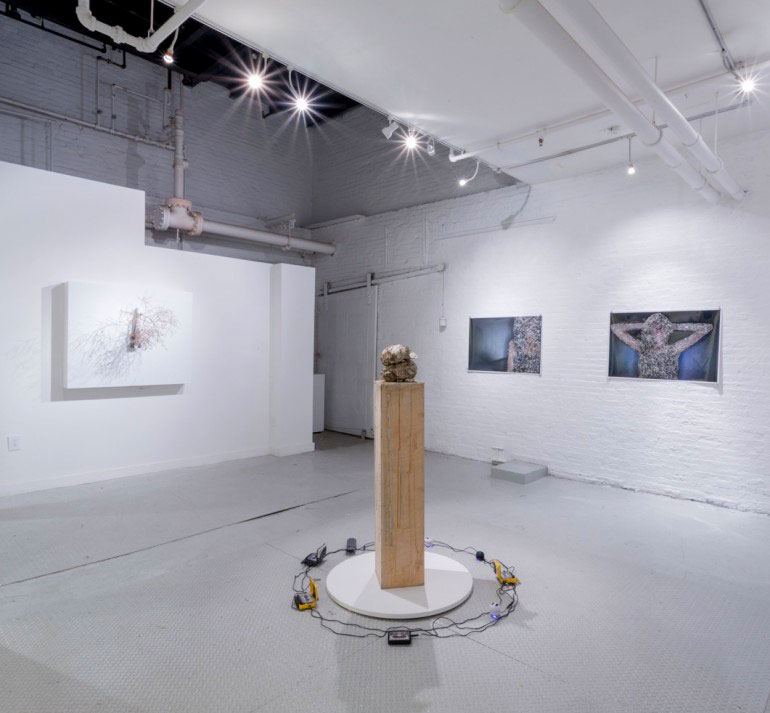 2014 Synthetic Zero, Bronx Art Space, NYC, curated by Mitsu Hadeishi
2014 FE:BODY, 25 East Gallery, The New School, NYC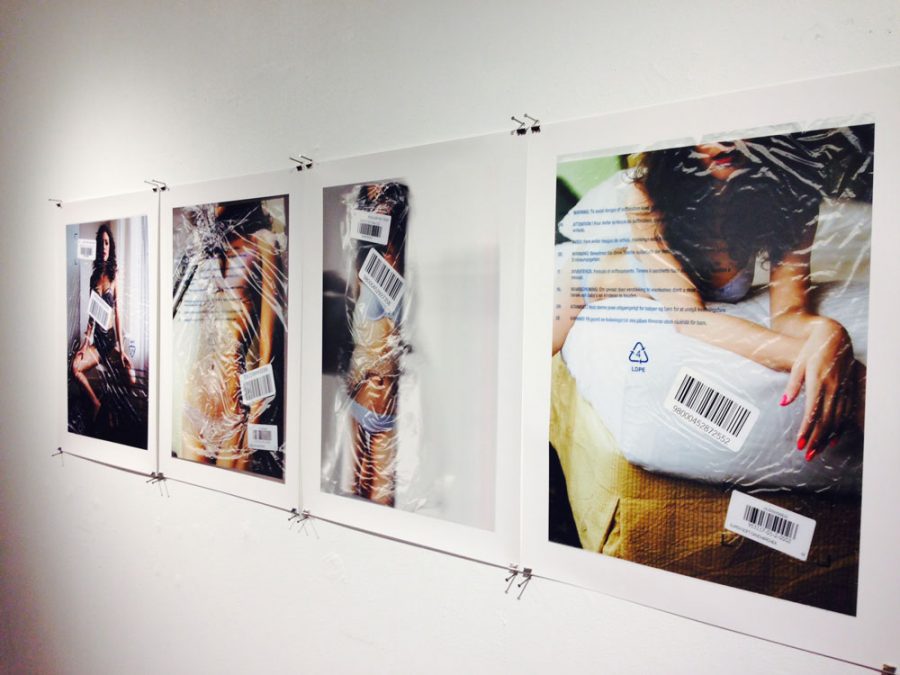 2014 Actions & Intent: Documentations in Performance, NARS Foundation, Brooklyn, NYC, curated by Peter Gynd
PERFORMANCES (in others' works)
2007 Floor of the Forest, by Trisha Brown, Henry Art Gallery, Seattle, WA (reconstruction)