Multimedia Works
These pieces were printed on my home printer at 8.5" x 11" or 13" x 19". The base images come from the Conceptual Online Projects series below. I hand-painted them with various art materials that I purchased at Blick, right downstairs from my school studio.
Digital(ish) Works
These pieces were originally printed at 8.5" x 11" and then treated (wrapped in clothing packages, folded, or splattered with water). I then scanned them and reprinted them on photo paper at 18" x 24".
The Female Painter
Much of my work in this phase was inspired and informed by my interest in "the female painter," an idea I explicated here.
Conceptual Online Projects
During my MFA program I developed a series of conceptual websites for online personas, including Escart Girl, Devotology, ArtSexyStudio, Free Girl, Painted O, and Art Child. Some imagery from these archived websites appears below.
The Google Project
The Google Project (2010-2015) was an ongoing artistic interaction and documentation of "web" and "image" results when you Google Search "Leah Schrager." It consists of Part I (Removal), Part II (Multiplication), and Part III: (Conflation).
Part 1: Facetook (Removal)

In 2010 I was in an internet accident and from 2010-2012 I removed images of my face from the web. I emailed publications and blogs and was successful in removing all images of my face from the the Google Search results (save for one image). Inspired by the current technological obsessions with facial reconstructions, the predominance of women's faces in the media, and the Internet's ability to archive faces via Facebook and Google, this three-part project, called Facetook, began in 2010 and was presented by Chashama in NYC in 2012.
Part 1A: Google Images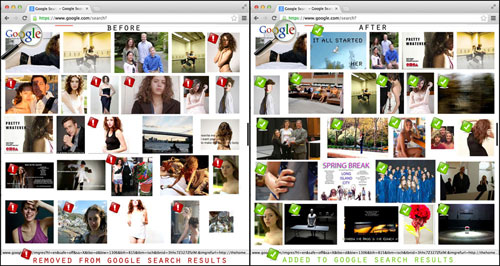 Removal of myself from Google, 2010-2012
Part 1B: Facial Reconstruction
Part 1C: Goodbye Video
In "Goodbye Video" I say goodbye to my parents and give my reasons for reconstructing my face. After undergoing the reconstruction, I made my first appearance at "Spring Break" through Chashama Gallery in NYC on March 24, 2012 during which I crowned myself Prom Queen.
Above are facial reconstruction mockups. Below are screencaps from the documentary footage taken by Louis Timmy.
Part 2: Multiplication

"The Internet is a surveillance state" – Bruce Schneier, Security Technologist
After Part 1 and an act of Revenge Tagging (detailed in Part2C), I realized that subtraction was insufficient to evade Google search and I switched to a practice of multiplication. The goal was to dissemble my physical, geographical, artistic, and social identities as they can be known via search engines, websites, and social media by problematizing the true nature of my art, posting misleading information on my Facebook profile, and using the comment feature and the collective's images to show increasingly confusing results as to who "the real" Leah Schrager actually was. The collective is calling this a Google Flood.
Responding to trends such as GF revenge, online reputation management firms, and concern over NSA surveillance, I carried out this project not only to protect my personal safety but to raise awareness of the Internet as an unregulated space in which bullying, surveillance, and misinformation are allowed to lawlessly disseminate without regulation or concern for safety.
Part 2A: The Collective

Thisisportfolio3.leahschrager.com is a collective of artists working under the name Leah Schrager formed in 2013.
Part 2B: On The Nature of Digital Art
The Collective's Mission: Interested in the flow of medium to image to website to social networking to search engine to desktop, the collective's mission was to investigate questions of online identity, internet surveillance, artistic representation, web marketing, and self branding.
*Full Disclosure (made at the end of the Google Project): The profile photo of each of the artists in Part2A is a digitally manipulated image of Leah herself. Every artwork presented by the members of the collective is in fact a photograph that posed as multimedia and multidimensional artworks.
Part 2C: Revenge Tagging / DirtyLove4812

GF Revenge is an act carried out (usually by a man) in which he posts a naked photo of an ex-girlfriend on a website – this may be linked with her name and even home address. What happened to me is an act of what I am calling Revenge Tagging: an anonymous user commented on two videos of Sarah White, saying she was Leah Schrager. This was a cause of great anxiety for me as I was holding public performance art events at my home while simultaneously receiving hate and death threats via email to Sarah White. Also, it effectively destroyed Google Part 1.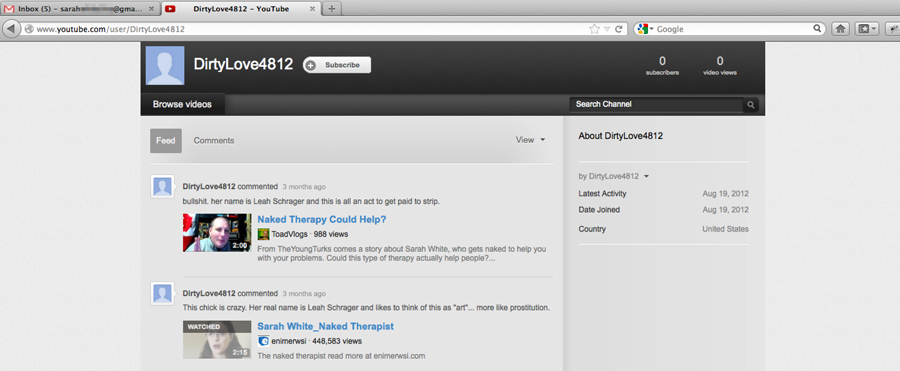 I contacted the owners of the video and tried to get the comments removed. I was able to for the second video, but not the first. I tried reporting the comment to YouTube and they did not remove the comment.

Despite my attempts to bury the link through multiplication, it moved from page 5 of my web Google Search results:

to page 1: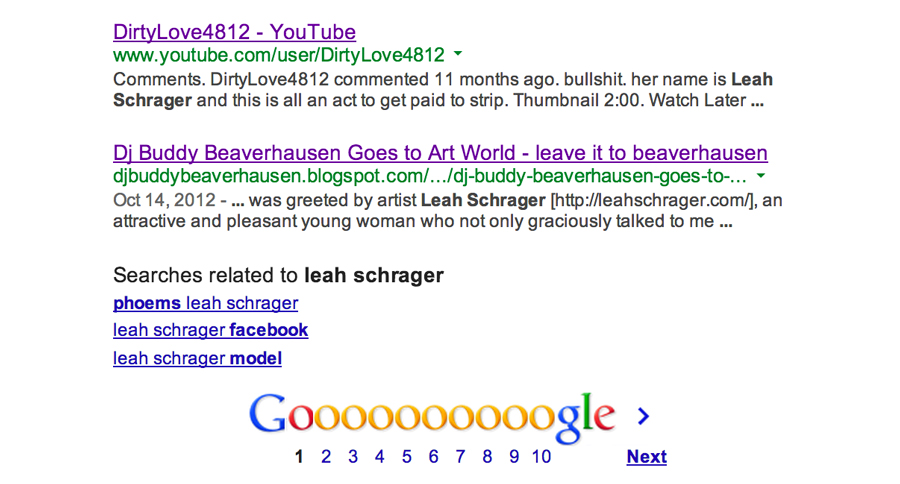 Eventually, I gave up and moved on to Part 3 of the Google Project. The comment remained through 2014 and in 2015 DirtyLove4812 disappeared.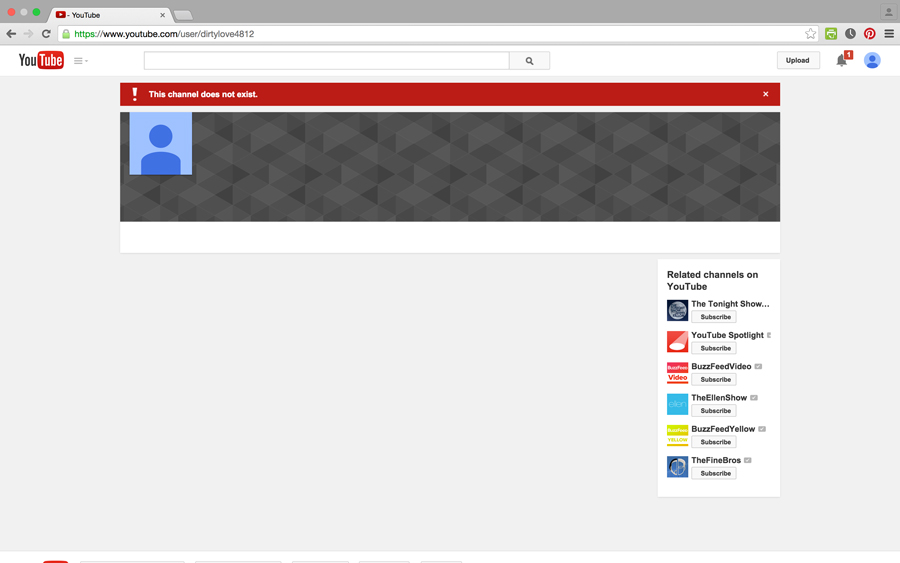 Part 3: Conflation
Part 3 unfolded during 2014. It was an exploration of artist branding, web identity, and social media reach. I initiated this step through an interview with Bullet Media, carried it out thru the proliferation of onas, and discussed it theoretically as a generation of people.
In my Google Search Result explorations I became fascinated with art-world-artists whose Google Search images conjure up multiple people and/or very different aesthetics.