An American Dream
An online imagistic narrative about my cross-country relationship with a mysterious Los Angeles art patron named Man Hands.
View the archive of the @LeahSchrager Instagram (2018-2020) done through Rhizome.
A few images from the Instagram:
About "An American Dream":
Standing seductively and defiantly at the hyper-contemporary crossroads of politically problematic social media performance, secretive art world patronage arrangements, and en vogue academic resistance to female capitalization on the male gaze, The American Dream Project is Leah Schrager's irl/online memoir via imagery and confessional of her ongoing relationship with "Man Hands," a mysterious, mythical, and maddening "producer type" who gives her 1 million dollars so she can "produce a more female friendly image" and become a "mainstream art star." In the course of their exchanges and engagements, the two debate various hot topics that include Man Hands's view that Schrager should end her artistic collaboration with @OnaArtist, an Instagram ass model with 3M followers, the personal and creative complexities of intentionally producing art for a specific market ethos, and the extent to which private desires should over-rule public displays. Are they in love or in hate? Who's got the power and who gets the picture? Is art more true to its sexual foundry when it defies or submits to its object of desire?
"Link in Bio" – An Installation at the Museum of Leipzig with a live Skype performance
My first installation and first in-museum Skype performance.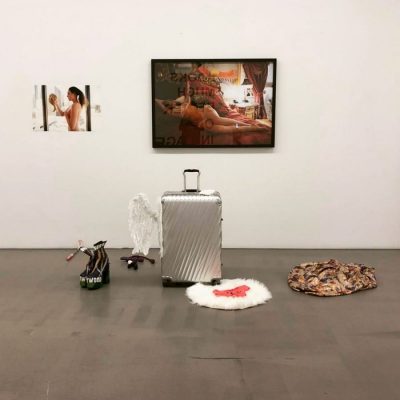 "Manifestations" – A Show at Roman Fine Art, The Hamptons
All works have been digitally painted by myself (using images from the project as base). They are materialized as dye sublimation on aluminum. The first edition of each comes with a unique frame.
Angles on a Woman
A performance and gallery show in the Hamptons during which I bring my private photography process into public.
Images from the performance:
About "Angles on a Woman":
In summer of 2019 Leah Schrager's first in-person (IRL) performance entitled Angles on a Woman took place at the Montauk Beach House. Schrager's performance Angles on a Woman is a reflection of her process and an investigation of Jacques Derrida's "Copy, Archive, Signature: A Conversation on Photography," in which he states that photography is "as much production as recording of images, as much act as gaze, as much performative event as passive archivization." To create her pieces, Schrager travels to hotels or home shares like Airbnb and photographs herself by performing for the camera. She then processes the images through selection, touchup, and digital painting. Finally, she posts the images on various social media platforms. In her live performance, viewers will see her production process in its three stages: Act I – Photoshoot; Act II – Processing; Act III – Posting. Schrager will be wearing the same costume in one setting but will embody three different kinds of women using different camera angles, physical poses, and capture moments. As part of Act III Schrager will post her selections to three different Instagram accounts, one of which is a "finsta" celebrity (which started as a an art project) called @OnaArtist that she created in her own image and which currently has 3 million Instagram followers.
Unbeknownst to her, one guest captured a short video clip of her performance and posted it to @BarStoolSports (6.8m followers). The video has since gone viral and been seen by over 40 million viewers.
During the performance, the crowd reacted with a mix of curiosity, shock, and enthusiasm. Some of them joined in and got their photo taken with Schrager, some asked "what is this all about?" and others audibly gasped when she struck the signature pose captured in the video. The reactions online also ran the spectrum. Commenters said hateful things like "your parents must be so proud," "why women can't get equal pay," and "she's shooting her ass for a porn site…not art." They also showed support, saying "the next Kim Kardashian in the making," "this girl is an innovator," and "your performance art…inspired my quilted self portraitures throughout undergrad."
"Angles on a Woman" was the performative element of Schrager's show, "Unprotected Specs," which includes visual works on display through Roman Fine Art in the Montauk Beach House's lobby gallery until July 16. It was the first in-person performance by the artist, and the show included an opening night reception on July 5 and an artist discussion on July 7 with journalist Nicole Teitler. However, the fact that her artistic performance went viral in a non-arts context is for Schrager both an affirmation of her process and a troubling commentary on female art in the age of social media.
"I was performing in order to explore the ways in which various angles are used in selfie-taking to generate different genres of digital female presentation," Schrager says. "I also posted certain images, depending on the angle achieved, on one of my online profiles. But in clip that went viral, I was performing as @OnaArtist, my racy IG model personae." Schrager feels the performance's emphasis on angles was vindicated by the viral video's caption, "gotta hit them angles," and the many commenters mentioning "angles" in statements like "angles on point" and "going to extremes for the right angle."
Schrager also found it telling that her work was transformed without her consent into a sordid meme page clip, that it was posted without crediting her as the model, and that she has been repeatedly referred to as a "thot" (slang for "that ho over there") in the 1000s of comments. These facts, she says, "highlight important issues surrounding female art in the social media age. To have a short clip of this complex process posted and referred to as 'just some thot trying to get attention' feels like both an affirmation of my artistic investigative mission and an interesting commentary on how women are seen and often shamed solely based on the camera angle they choose. In short, am I a thot or an artist, and what is the difference?"
Schrager has also spent countless hours since the video went viral trying to get mentioned as the model. "At first, everyone posted it without tagging me, which I consider image theft. Then, while DMing these huge meme pages asking to be credited, I ran into resistance from men who felt it was their right to show my body without naming me and who even ridiculed me for trying to be identified."
Owning her image is central to Schrager's art practice. She has spent years creating work in which she is the photographer, model, and artist in order to facilitate an institutional critique of the standard exploitative practices of the fashion and arts industries. Before getting her MFA at Parsons in 2015, Schrager achieved global attention for her creation of Sarah White – The Naked Therapist. She has also written about Instagram modeling as female performance for leading arts journal, Rhizome, and had her show, Body Anxiety, featured in ArtForum.
Press:
Monopol Magazine, Selfie Performance by Leah Schrager "No One Says: You See Art"
Artnet, This Instagram Artist Isn't Mad That the Internet Made a Meme Mocking Her Racy Selfie Shoot—She Just Wants to Be Tagged
Garage, Leah Schrager is an Ethnographer of the Extremely Online
Butts for Basquiat
Selfies taken while networking at VIP museum events in NYC.
Goldfinger, Revised
A retelling of the Goldfinger movie told on social media in which the model triumphs over the murderer.
The Ultimate Conclusion
The final series I made during this phase zooms in on the body while completely removing it.