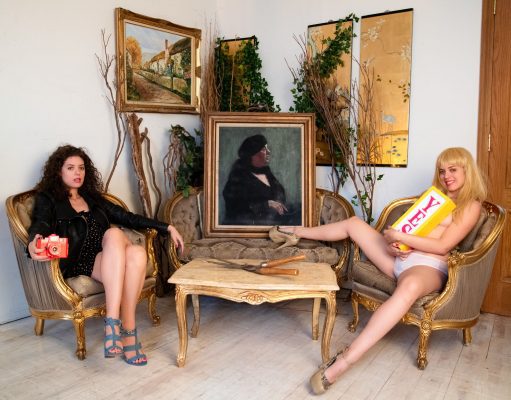 In 2015, I began @OnaArtist with the question of how to make a celebrity as part of an art practice and the desire to self-appropriate my own celebrity image. By 2022 she had over 5 million followers on Instagram, had released her debut album (OnaMania), created a body of visual work, and developed a modest monetization empire. The project failed to achieve blue-chip gallery representation or mainstream attention but succeeded in creating the largest following for a female artist on Instagram and exploring the mainstream media's concept of acceptable celebrity behavior as well as what is and isn't allowed in female presentation and in art.
"I'm the only insta-princess can't be Richard Princed" – Serious Pieces, OnaMania
Song Art
#ToysOnAPeach
Music
Ona Press
"If you're not familiar with ONA's music, buckle up…The song cooks and its uptempo, driving indie rock showcases promise that goes beyond her traditional modeling." – Pure Volume
"There are few singers and artists who are so unique, so individual, so highly talented that they're known by just one name. Beyonce. Picasso. Madonna. Prince. Perhaps it's time you add another name to that list: Ona. She's both a singer and an artist. And as you'll see on her Instagram or hear from her songs on Spotify, she's a singular talent. So, let's start your weekend off right: do yourself a solid and enjoy the undeniable sexiness of her one woman self-made photoshoot." – Playboy
"Beautifully orchestrated, featuring melodic piano lines, ferocious crashing high-hat drums, and most notably Ona's gorgeous, breathy alto vocals…one of the better tracks I've heard in a while…this record will undoubtedly be making our year end list." – Audiofemme
"Lullaby sweet vocals with a cyber soundtrack … an 'extreme selfie model'" – Wonderland
"[Open My Hips is the] best title song ever." – Jerry Saltz
"ONA — an objectively stunning woman who has worked her angles into hundreds of thousands of dollars, millions of followers, and a viable independent career. While the paparazzi may not be camped outside her Brooklyn, New York apartment like a traditional celebrity, ONA is certainly famous by 2018 standards…. Of course, this life does not come without sacrifice. Living publicly as a SW has seen everyone from family members to former classmates weigh in on her lifestyle… While it seems like movement to reclaim female sexuality is progressing in leaps and bounds, there's still a long way to go, ONA asserts, but she is more happy to be in the trenches. PAPER caught up with the model to talk sex, more sex and rock 'n' roll." – Paper
My Related Writings
One of the most enlightening aspects for me of the Celebrity Project was the degree to which my work was met with resistance from various corners of the art, mainstream, and commercial worlds. Ona has managed to get me kicked out of "Open" Studios, banned from the /art subreddit, ejected from stores, blacklisted off art patronage platforms, and shadowbanned or deleted from social media and financial platforms, among other acts of cancellation. I was told by the most powerful dealer in the world that he couldn't show me because the art market is too "conservative," had a large commission revoked citing the "me too movement" and been told flat out that my image is embarrassing by another well known gallerist. Creating provocative work has opened my eyes to the incredible amount of censorship, jealousy, and hate directed at women who choose to use their bodies provocatively. Perhaps (un)surprisingly, this ostracism comes from all genders, identities, and political leanings. I write more on these topics here:
On Instagram Celebrity and Female Representation in Rhizome, 2016
Thoughts on Me Too in The Huffington Post, 2017
Self-Made Supermodels in The Wrong Digital Biennale, 2018
My 2017 Update on the Celebrity Project
Schrager's ongoing celebrity-as-art-practice project is called ONA, set to run from 2015-2020. She started the project with the question: Is it possible to create a celebrity as an intentional art practice? What would that even look like? She is striving to make a real world celebrity so she can (among other goals) successfully appropriate her own image into her art while also investigating how, in the digital age, everyone is conducting their own "celebrity project."
You can hear her EP "Sex Rock" and see her videos here and find her Instagram here (1 Million + followers).
By attempting to achieve actual celebrity despite her DIY fully self-made and self-funded working girl status, she's sharing what she's learning about female performance and celebrity and what is and isn't allowed in the mainstream (and art), all the while sharing her music, pro-sex feminist message, and celebrations of life, art, and sexuality. She has written a controversial essay on the sexual roles of performers (Why I'm A Naked Rockstar), and her Year 1 analysis of Instagram is viewable in Rhizome: Self-Made Supermodels, On Instagram as a New Form of DIY, Digital, Feminized Performance.
Her Year 1 show was held at Superchief Gallery in NYC. Highlighted work included "50 Favorite IG Comments From Fans" and screenshots of photos from her Instagram with her favorite comment highlighted (with 10% of sales going to the commenter).
Her Mid Year 2 investor presentation was performed at the Johannes Vogt Gallery. As the press release said, "In East Hampton Schrager will present a humorous yet authentic take on the "Investors Presentation Template for a Tech Start-Up," in form of a slide show that describes her current long-form art practice, ONA: The Celebrity Project. Schrager is attempting to create a Female Elvis, or what she has called "the Naked Rockstar," who has 10 million Instagram followers, 1 million album downloads, and a photo of her ass on the cover of Rolling Stone by January 2020."
Her Year 2 show was held at the old Vanity Fair Offices in Times Square as part of SPRING/BREAK Art Show 2017.