Sarah White – Naked Therapy
Naked Therapy is a form of talk therapy conducted via Skype founded in 2010 by Sarah White. During a session the therapist and/or client becomes naked, and that nakedness is used to facilitate unique client insights. It went viral in the news in 2011. Visit the practice at SarahWhiteTherapy.com.
In 2010, I was active in the NY downtown dance and performance art scene. I was interested in the work of Marina Abramovic, Laurel Nakadate, and The Wooster Group. But I also lived online and I taught myself to build websites… How about performance art online? What started as just an idea quickly  realized itself as something that the world really wanted and needed. Yes, Naked Therapy works amazingly (for some). It is a true inversion of Freud's theory of transference (young women to male desire as opposed to older man to female desire). It is some mix of social practice, art therapy, online art.
"Naked Therapy is trying to change the world and the way we view sex in our lives and society. I've got to say, I'm cheering them on." – Psychology Today
The Art Controversy
On April 19, 2012, I was accepted as an artist into the West Chelsea Artists Open Studios. On May 1, 2012, I was removed from the event by the director. The removal came after I submitted the image you see below as my feature art for the event's promotional materials. I was told in an email from the director that I was being removed because my art was an "ad" and that I am a "commercial entity" and "not an artist." In protest of this blackballing, I held my own Independent Open Studio on May 13 from 4 – 8 pm at the Hôtel Americano in Chelsea (518 West 27th Street, NYC). At that event I will show my work and host an open discussion forum on the issues of ads vs. art, commercial entity vs. artist, and the professional segregation of women who use the performative body provocatively.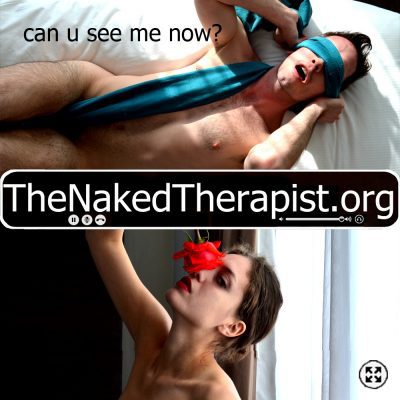 This event peaked my interest in the the prejudice in the art world against women who use the provocative (and potentially commercial) body. It was covered in DNAinfo, NY Maggazine, Huffington Post, Artinfo, etc.
Press