Sarah White – Naked Therapy
Naked Therapy (NT) is a form of talk therapy conducted via video chat founded in 2010 by Sarah White. Since then she has conducted 1000s of hour long NT sessions. During a session, the client and/or therapist gets naked to facilitate deeper insights through the experience of arousal. Ultimately, NT is a feminist version of Freudianism, and they have similar origins. Freud treated turn-of-the-century women, while White treats turn-of-a-different-century men. His practice was born out of mesmerization – achieved through hypnosis – and the concomitant positing of the unconscious. NT is sourced in a new form of mesmerization – men in states of online arousal – and the concomitant positing of the arousal brain. In both cases, unearthing the unconscious or arousal brain allows for transference and transformation. It went viral in the news in 2011. Visit the practice at SarahWhiteTherapy.com.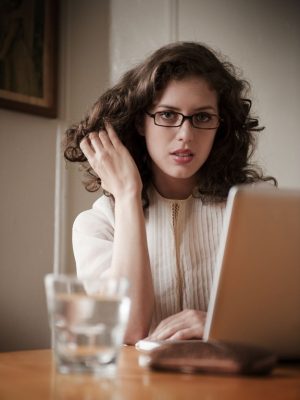 "Naked Therapy is trying to change the world and the way we view sex in our lives and society. I've got to say, I'm cheering them on." – Psychology Today
The Art Controversy
On April 19, 2012, I was accepted as an artist into the West Chelsea Artists Open Studios. On May 1, 2012, I was removed from the event by the director. The removal came after I submitted the image you see below as my feature art for the event's promotional materials. I was told in an email from the director that I was being removed because my art was an "ad" and that I am a "commercial entity" and "not an artist." In protest of this blackballing, I held my own Independent Open Studio on May 13 from 4 – 8 pm at the Hôtel Americano in Chelsea (518 West 27th Street, NYC). At that event I will show my work and host an open discussion forum on the issues of ads vs. art, commercial entity vs. artist, and the professional segregation of women who use the performative body provocatively.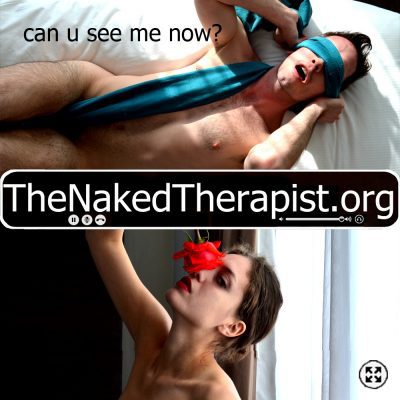 This event peaked my interest in the the prejudice in the art world against women who use the provocative (and potentially commercial) body. It was covered in DNAinfo, NY Maggazine, Huffington Post, Artinfo, etc.
Press